Himara was among the first recommendations I got after I arrived in the country. It is the center of the Albanian riviera, and the region is full of beaches. And I wasn't disappointed at all.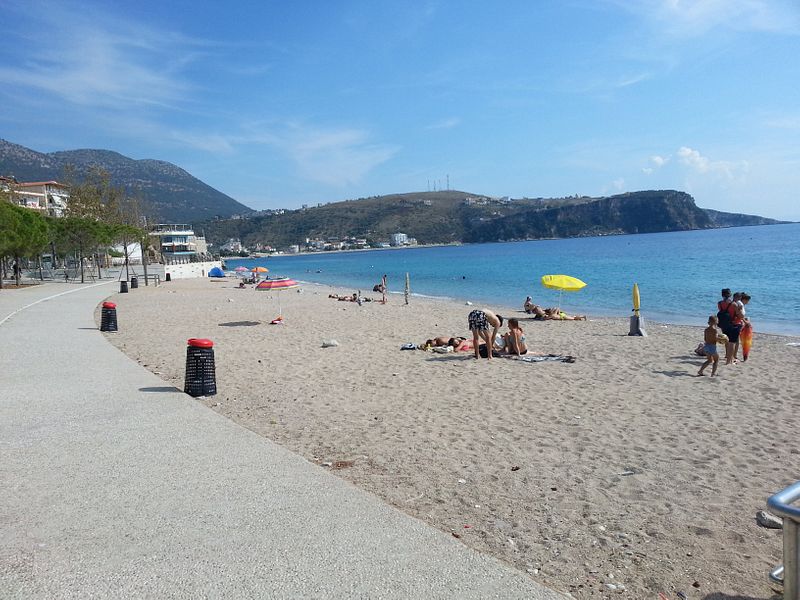 There are direct buses from Tirana but you can also come here from Vlora or Saranda. There is one road on the coast so everything that goes on that passes Himara.
When I was there it was already September which meant the weather is still summer, the water is the warmest in the year, but not much tourists. Some restaurants were closed, but the town wasn't a ghost town.
I've heard that during the summer this place is packed which means it's not a good destination from July to mid August.
Himara a rather small place which there are only a handful of restaurants, few shops, and most imporantly, no free ATMs. There is one at the beach that is not that expensive, but it's better to bring some extra cash.
The hostel is maybe 50 meters from the beach, and most of this distance is because you need to go around the building. It's awesome. And speaking of beaches, this whole region is full of them, whichever direction you go you'll find several in walking distance.
Map of Himara
Things to do in and around Himara
Filikuri beach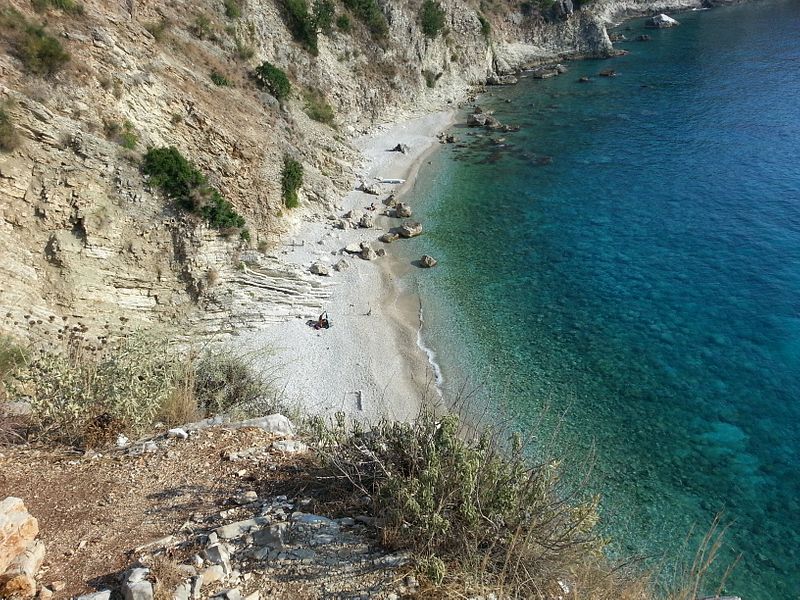 I've heard that there is a "secret beach" not far from the town which is a nice place to chill out and not much people are there. Well, not so secret anymore, it's on the map along with the route how to get there.
It's south of the town and can be reached with a 45 minute walk. Go up the hill then through some bushes until you find yourself on top of a cliff with the beach down there. There is a rope to help you get down safely, and watch your step for loose rocks.
There weren't many people there when I visited the beach, and as far as I could see most go by boat instead of walking. That is definitely a more convenient way.
Gjipe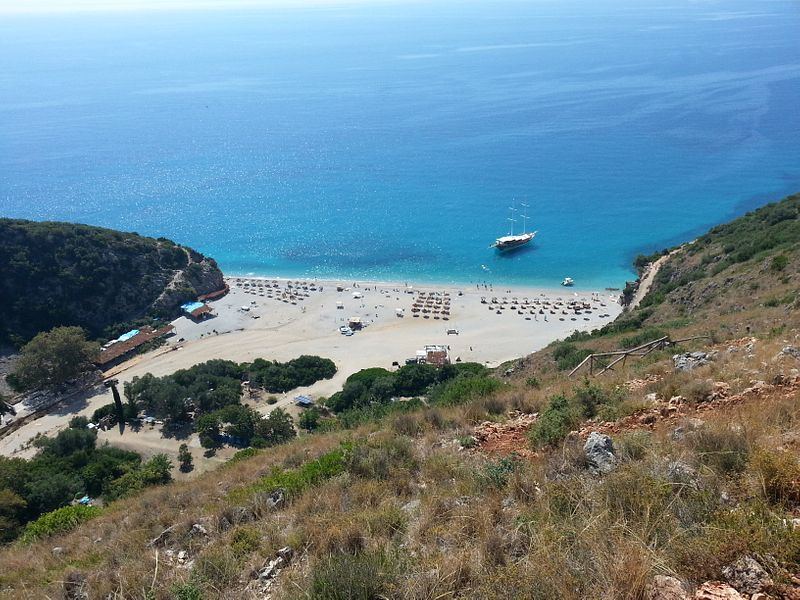 We were in the middle of nowhere, no houses in sight, just the road. It's late afternoon and we need to go back to Himara but we don't know when the next bus comes.
If you ask anybody where to go from Himara, the Gjipe beach is the number 1 answer. The downside is that it is a bit further away from the town, so you'll need a car or a bus. If you choose the former, there is a parking place not far from the beach itself, around 10 minutes.
Getting there by bus is a lot more challenging. There is no designated bus stop here, so take any bus that goes north and ask to get off at Gjipe or Ilias. From there you are looking into an hour of hiking to reach the sea. But don't worry, it is an awesome trail and several viewpoints to take in the gorge.
You'll see the problem when you want to go back to Himara. First, you need to do the same trail but this time it's ascending. But then you'll find yourself in the middle of nowhere with no information when the next bus comes. No timetables, no nothing. Maybe the people in the campsite have information about the buses, but it was too late for me to ask them.
How did we get back to Himara? We hitched a hike.
This was my first hitchiking experience in my life. I feel in control when I know there is a bus coming for me and if I pay it it will take me to where I want to go. Hitchiking is undeterministic and quite frightening for me. But it turned out to be an entirely positive experience.
It took close to 30 seconds for a car to stop and we found ourselves on the backseat of a Macedonian (now North Macedonia) family's car. They were friendly, and didn't even let us pay for the parking when we arrived to Himara.
As for Gjipe, you don't need to come back if you don't want to. There is a camping place where you can also rent a tent and they have some solar panels to charge your electronics. I haven't stayed there, but it should be enough to power a laptop.
There are also a few restaurants but don't expect much. There are a ton of wasps which makes eating a lot more stressful.