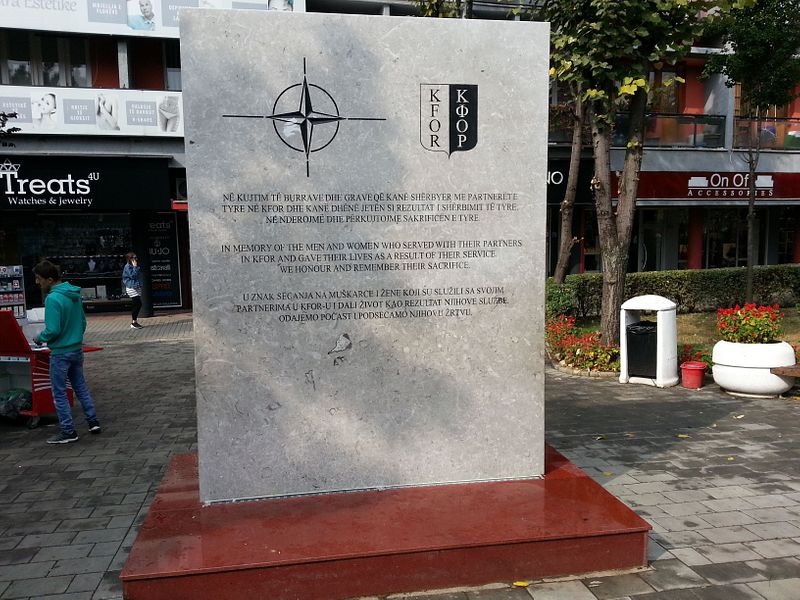 My first stop in Kosovo was the capital, as usual. I took a bus from the International Bus Station in Tirana. I bought the ticket a day before, as there are many bus operators at the station and they all sell tickets at a similar price. I can't remember the exact amount I paid, but it wasn't that much.
The bus route was quite pleasant on the way to Kosovo, and quite bad on the way back. Buses in the Balkans are not full as long as there is enough free qubic centimeters to hold a person. Because of this, it's always a lottery whether you'll have some space or you'll find yourself in a cramped furgon.
The border crossing was quick and eventless. Since I can, I used my ID card to travel, but I've heard that they don't stamp on passports. But the whole crossing was just a longer pause on the way.
Buses
The first surprise came when the bus stopped a bit outside the center. I thought it would bring me a bit closer, but it's still within walking distance. There are local buses too, and I'm sure I could've asked around to get a ride, but it was ok. I bought a local SIM card on my way to the hostel so at least I had Internet access.
On my way out of the city when I went back to Tirana, the hostel organized a taxi for me from door to door. I can't remember the exact price, but it was way less than I thought a taxi would cost. It was quite convenient, so be sure to ask the accomodation if they can organize something like that when you leave.
An interesting fact about the bus station is that it costs money to get into. Yep, you need to pay a small fee to get to the buses themselves, so be sure not to tip the taxi driver all your change as I did. Next to the station is a bus stop, so the savvy locals extricate themselves from paying the price by simply waiting outside the station.
First impressions
Going to Kosovo after spending quite some time in Albania felt like going back to Europe.
They use the Euro here, though illegally, which makes it readily apparent how cheap this place is compared to western countries. A pizza is around 2 Euros, and that is the amount of money you need for other foods also. Compare that with 8 Euro beers not unheard of in places like Switzerland.
I ate at the Ginnis Pizzeria, which was one of the best pizza I ate in a long time. It definitely worth all the praise it got on Tripadvisor.
The city is full of shops, restaurant, cafes, there are a few shopping malls, so it's quite similar to other cities. The traffic resembles Albanian-style chaos with a pint of western-style order. But it's still the Balkans.
There is also a cafe that doubles as a coworking space called "Dit' e nat'", which means "day and night". I went there only one once after a recommendation, but it's definitely up to any western standards.
KFOR
The NATO peacekeepers are still in the country, but they are not that visible. There are sizeable areas used for military bases with tall walls, but that is all. I only saw one military vehicle going with the traffic. But there are statues reminding to the NATO involvement every now and then. There is even a statue where the military shot someone because he did not want to relinquish his weapon.
There are not many police officers on the streets either. I can't remember seeing even one.
Graffiti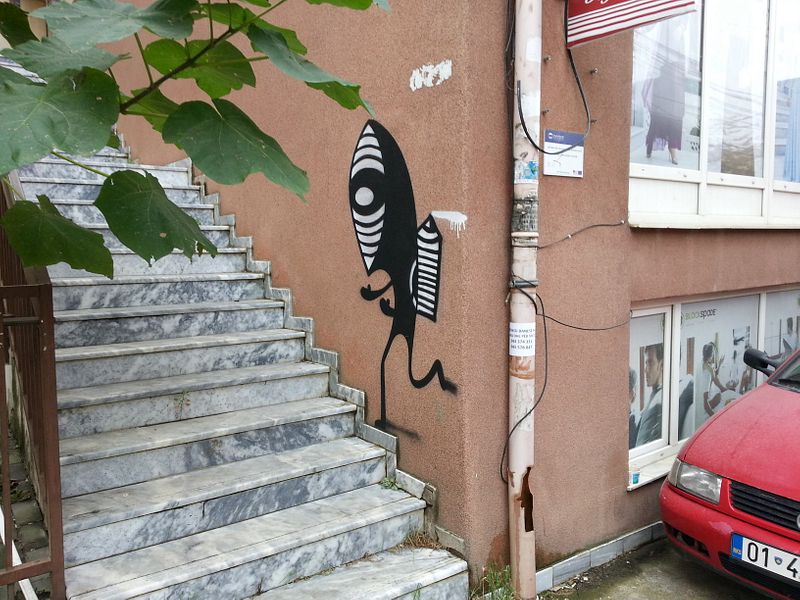 I saw a graffiti next to the hostel. At first, it seemed like all the other ones found everywhere in cities. Then I met an elderly couple who told me that 2 artists (maybe Japanese? I can't remember) draw these wherever they go. From then I started looking for it, and sure enough, I found them in several other places.
Unfortunately, I forgot the name of the artists. But this is a nice thread that connects cities in the region.
Map of Prishtina
Things to do in and around Prishtina
Bill Clinton statue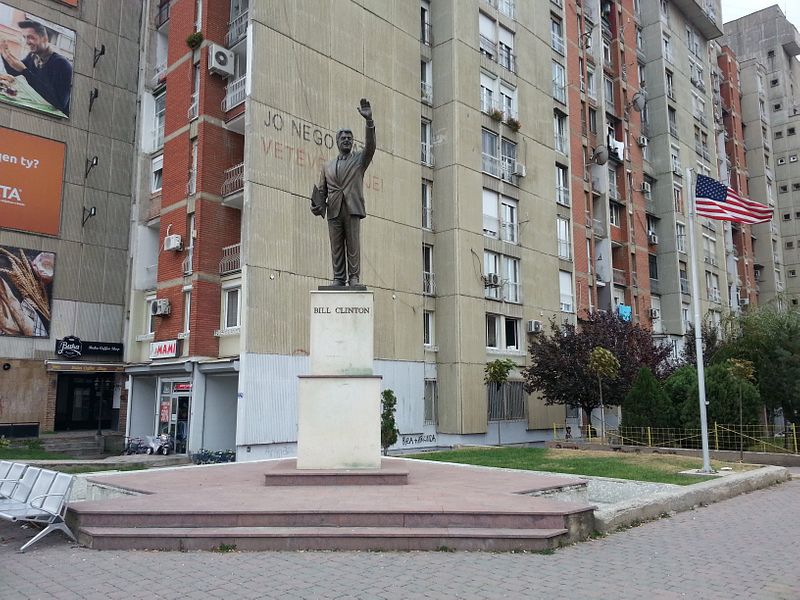 During and after the Kosovo war, its independence depends on international support, no wonder why people are grateful for the US. One of the main boulevards is named after Bill Clinton and he also has a statue with a US flag.
Innovation Centre Kosovo
When I was in the city I needed a place to do some work for a day or two. I found a coworking space near the center, so I contacted them to see if they have daily options also. On their website I could only find month-long contracts, which is too long for my duration of stay.
It turned out that they have no shorter options, but they had a few free seats for the days of my stay. Call it a free trial, I could go and work for a day, totally free.
Since I only had one day, I couldn't see everything that this place can offer. But it is a nicely run coworking with a nice interior and good Internet. I also got a cool sticker from the guard at the front desk.
I would definitely go back if I'm in Prishtina, and even their monthly passes are way cheaper than in western countries.
Newborn monument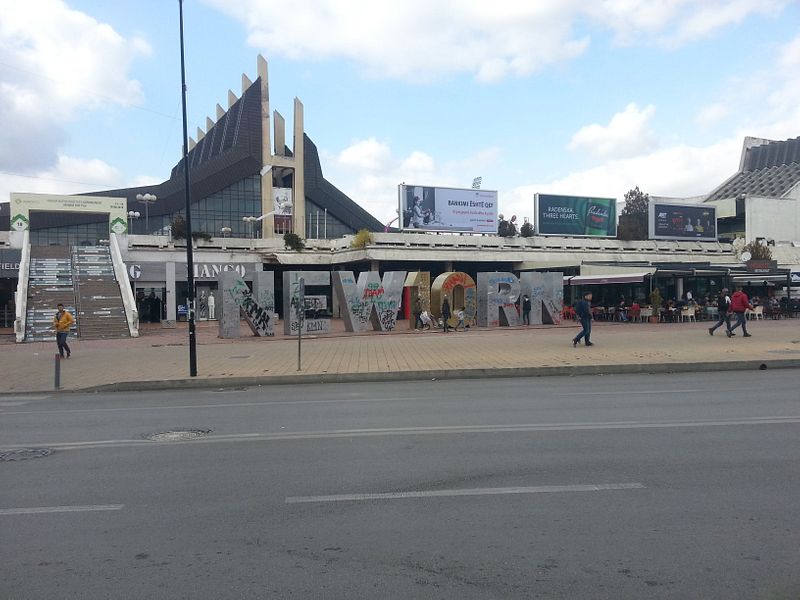 The Newborn monument is near the center and it symbolizes that Kosovo as a separate country came to be only a few years ago. They rebuild it every year to include the age of the country, during my visit the number 10 signaled that ten years have passed since the war.
I've heard that after a few years, people started to autograph it then it soon got out of control and now it's full of graffiti. But since there is a new canvas built every year, I'm curious how it will evolve over time. Maybe it will look a lot different a few years from now.
Walking tour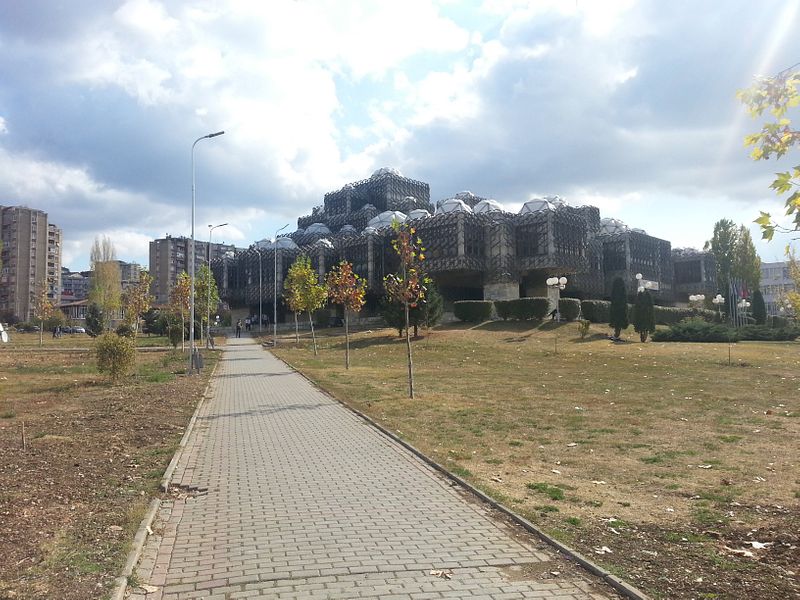 There is a free (donation-based) walking tour in town. When I started travelling I didn't know about this city-seeing way, but it's a great option to get a general feel of the history and architecture of the place. Now it's one of the first things I check out after I arrive to a new city. The best thing is that there is a local who does the tour, so you'll know not only the textbook facts but also about recent events and personal stories.
The walking tour in Prishtina definitely a few hours well spent, but I hardly had any of such tours that was bad.
Anyway, there are a few places where you can go into but you wouldn't think it's allowed just by walking by it, like an old mosque currently under renovation.