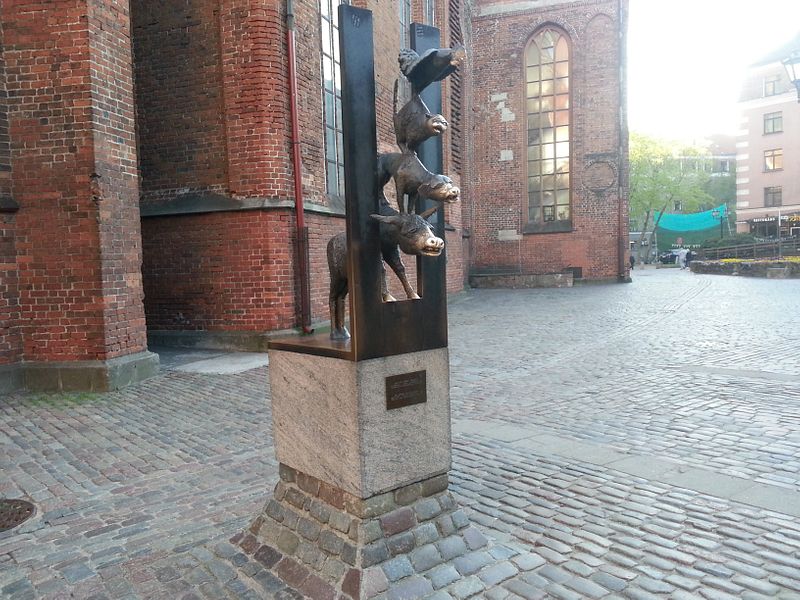 Riga is still one of my favorite places and I felt at home at the moment I arrived. The old town is nice and walkable, and the river gives the whole place a sense of openness.
I took a bus from Vilnius to Riga and found them comfortably close together. It was in the spring of 2018.
The river, called Daugava, splits the city into two parts and there are several smaller rivers going everywhere. Technically, the old town is on an island. The bus station is next to the old town making it easy to walk everywhere.
The "business lunch" is a thing here. Most of the restaurants and cafes offer some sort of cheap lunch menu with soup and mains sometimes with dessert. The sign is usually only in Latvian, but with a help of a translator app it's easy to figure out the menu.
Getting around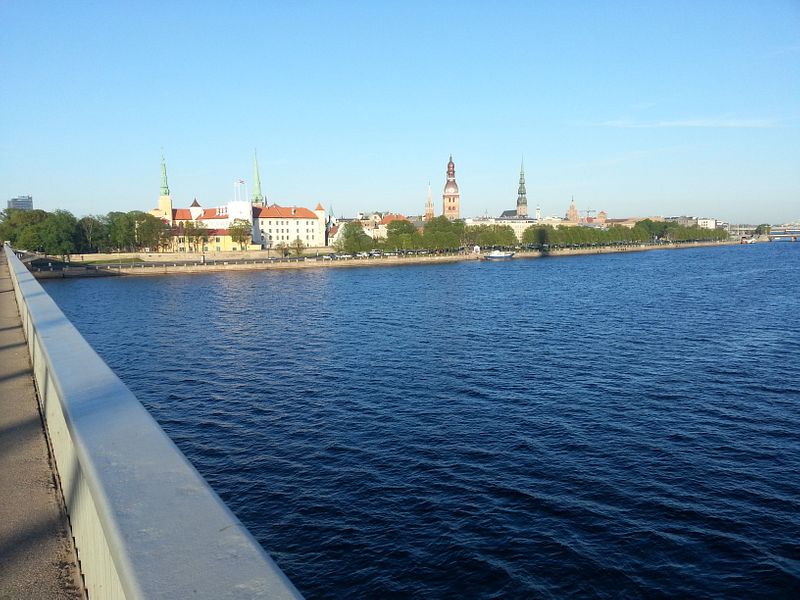 There is an electronic ticket system for public transport inside the city. It was strange to see this in Riga, now I find it increasingly interesting why it's not used in most other places.
Using the system itself is easy. There are vending machines everywhere where you can buy a card and you top it up with tickets. When you get on the bus you'll see a terminal inside and you need to touch the card to the terminal until it beeps, much like how Paypass payments work.
The cards come in different colors which indicate discounts. I got a yellow one, which means "normal".
Maybe you can buy tickets from the driver also, but that must be more expensive and I found that people don't like it as it delays the departure.
Map of Riga
Things to do in and around Riga
Folkklubs Ala Pagrabs
I saw this place on Tripadvisor then somebody recommended it to me later. This is a rather unassuming place in the old town, and this location is usually associated with increased prices and a predilection for tourists over locals.
But this pub was everything but. Beers on tap, great food, it's reasonably priced and the portions are enough for a meal, and as a consequence it's full every night. The first time I was there it was for a late lunch, then the second time it was for an evening beer and the latter time it was hard to find a table.
People Work Coworking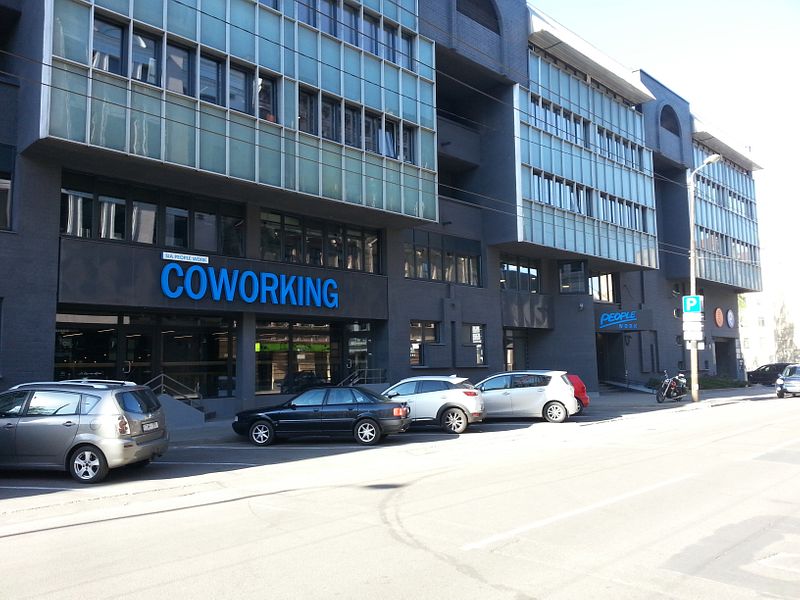 Unfortunately, they increased the prices since, but this place was the cheapest coworking place during my tour. At that time I paid 8 Euros for a day, without any longer-term commitment. And there is also a free-to-use coffee machine, a rarity for cheaper places.
I spent quite some time here as I had some work to do at that time.
National Library
Some think it's the ugliest building one can imagine, other see it as a piece of modern architecture. But no matter whether you like it or not, it's on the opposite side of the river and it's a giant building.
And the best thing is that you can go and take a look inside without any commitment. Just ask at the reception and you'll get a visitor card and you get to look around.
Sea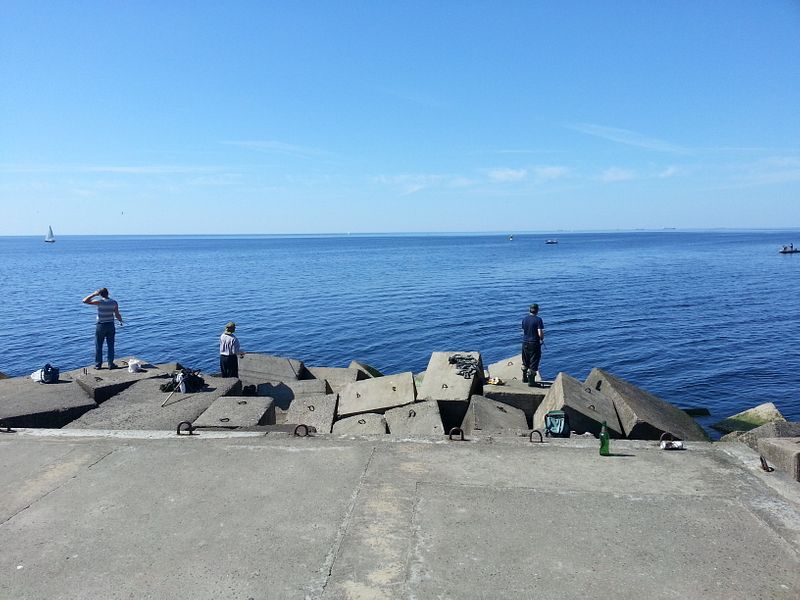 The seaside is not far from Riga, and there are buses connecting it to the center. In good weather it's a nice afternoon trip.
I went there on a sunny weekend day and that was probably the only time I saw a bus full of people in the Baltics.
To get there, get on the bus going from the edge of the old town. You can buy tickets from there if the ticket machine is working, if not, then you can go to the central station to buy one. Make sure to buy a return ticket also, as I'm not sure if you can do that on the other end. The ride itself is quite long, around ~40 minutes, and you need to walk a bit to reach the sea.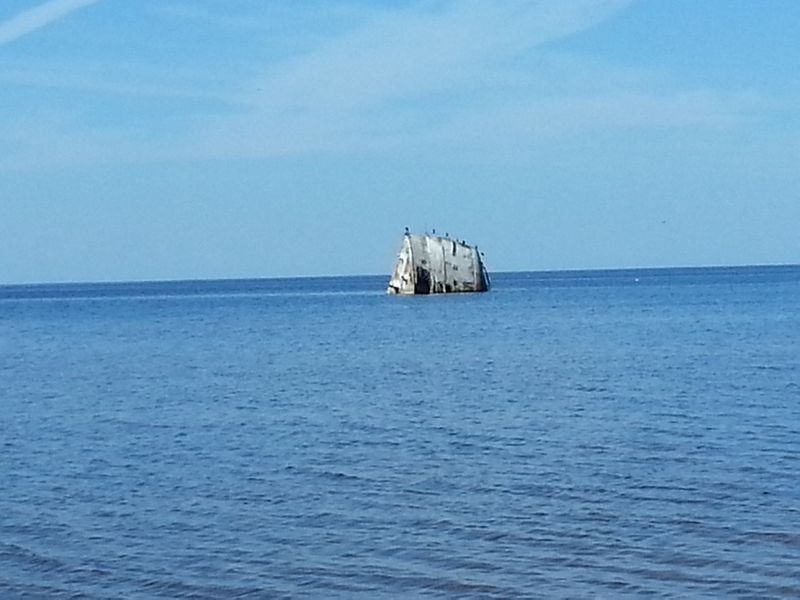 The seaside is nice with a pier and a long beach. The water is chilly as it's the Baltic sea, but you can swim in it if you don't mind the temperature.
There is also a shipwreck near the shore. It's called Lady Cotlin and it was probably an insurance fraud. Either way, it's an interesting sight.
Skyline bar
On top of the Radisson Blu Hotel there is a skybar with a great view over the old town of Riga. Just go in, ask at the reception, then take the elevator to the top floor.
As this is a bar, you are expected to consume something. While the beer I had was definitely expensive, considering the view it was worth it.